Overview and Related Programs:
EUCLID (Pôle Universitaire Euclide | Euclid University), an international intergovernmental organization with university charter, in the context of its inter-religious dialogue mandate, offers to select students from the general public two high-level external (distance or online) degree program in Orthodox Christian theology:
(1) The "EUCLID Master of Theology in Orthodox Christian Studies" (MEOT)

(2) The "EUCLID Doctorate (PhD) in Orthodox Theology" (DEOT) (this page).
The DEOTh is to date the only doctorate degree program in this field offered by a public intergovernmental organization with a UN-registered charter, yet with the option of a joint-degree with another institution.
Its purpose is to prepare highly qualified experts able to make a contribution to inter-religious dialogue, including in civil service, international organizations, higher education institutions, as well as ecclesiatical bodies globally.
Note: For information about our Online Doctorate in Comparative Christian Studies, please visit this page.

Note: For information about our Online Doctorate in Inter Religious Dialogue, please visit this page.

Note: For information about EUCLID as an institution, including Participating States, scholarship programs, inter-institutional agreements and accreditation, please visit this page.
Audience:
Individuals with a graduate degree (Master of Theology, Master of Divinity) and a strong motivation to achieve doctoral level in Orthodox Christian theology. It is recommended that applicants already have a thesis topic in mind when applying. EUCLID gives preference to applicants from its Participating States, ECOWAS region, and Greek Orthodox Patriarchate of Alexandria region.

The EUCLID program, with hierarchical blessing, has also trained students in North America for ordination, and has been registered with the Assembly of Bishops Committee for Theological Education.
Timeline:
Open and continuous enrollment is active for qualified applicants.
Brochure: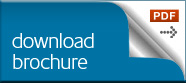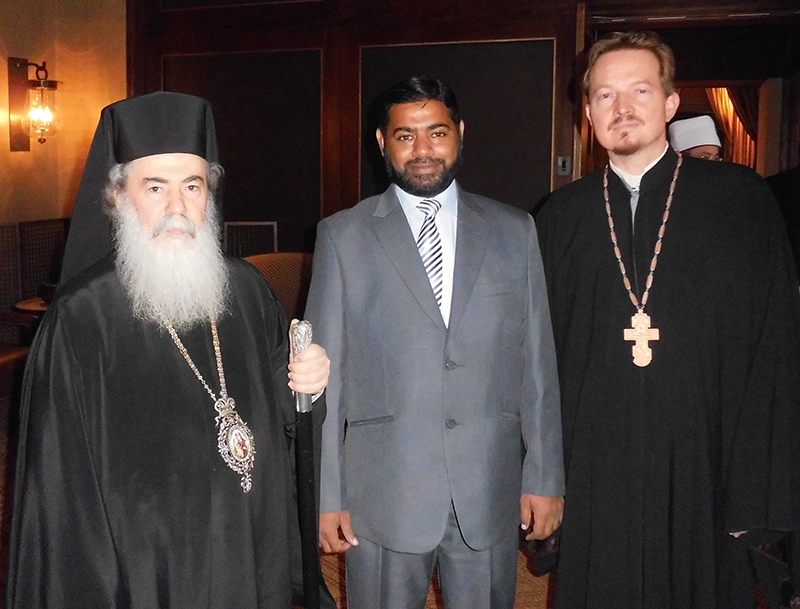 Photo above: The EUCLID Secretary General and EUCLID International Faculty Coordinator with Orthodox Patriarch Theophilos of Jerusalem (2016)
Theology is often studied within institutions that are directly affiliated with the related religious body, but EUCLID shows that in this particular case, Orthodox Christian theology can be studed in the context of a public, intergovernmental organization. Within the framework of its inter-religious dialogue mandate, EUCLID has designed a comprehensive and challenging online doctoral degree in Orthodox theology (PhD classification) which is presented here with full documentation of syllabus and faculty resources, as well as total tuition.
This comprehensive information will enable students globally to determine if this program is suitable for them.

Academic Presentation:
In accordance with international guidelines, the distance (non resident) doctoral program in Orthodox theology represents 90 US credits of coursework beyond the Bachelor's degree, or in practice about 55-60 US credits of coursework beyond the Master's degree. This includes 20-25 US credits for the thesis / dissertation which must result in a publishable work.

Possible areas of specialization include:

Theology and Psychotherapy (with Dr Vujisic)
Temple Theology and Liturgical Studies (with Pr Cleenewerck)
Modern Orthodox theologians
Ecclesiology
Ecumenical relations / Inter-religious dialogue
Advanced Scriptural Studies

Both programs (Master's and Doctorate) can be offered as joint degree programs with the Saint Gregory Nazianzen Orthodox Institute (an academic unit of the Universidad Rural de Guatemala, and under the Greek Orthodox Metropolis of Mexico) in order to enjoy ecclesiastical oversight and approval.
Note: This degree program is distance-based only and requires fluency in the English language.

Requirements for admission:

Applicants must have a an advanced degree in theology issued by a recognized institution.

Government-sponsored applicants (who are already government staff) may be admitted without the required educational credential if their level of education and experience is deemed sufficient. EUCLID may require these participants to complete bridge courses prior to enrolling in the program.

Fluency in English (spoken and written) is required and will be tested.

Students are expected to be in position to dedicate 10 to 15 effective hours of study on a weekly basis.

Program courses ("roadmap"):
Based on the applicant's background and incoming credits, as well as intended specialization and thesis topic, a roadmap of courses will be created to meet EUCLID's academic standards and international guidelines.
EUCLID Online Doctorate in Orthodox Theology courses (from EUCLID database):
PRIMARY ASSOCIATED COURSES

Code

Course Name


-ACA-401D
International Academic Writing (Doctorate)

3

-TPH-499
Argumentation and Critical Thinking

2

-THE-333
The Canon of Scriptures

3

-THE-481
History of Development of Christian Doctrine

4

-THE-444
Temple Theology

3

-DEB-555
Comparative Christian Theology and Debates

2

-T-DTHESIS
Doctoral Thesis / Dissertation

25

-T-DTH1
Doctoral Thesis 1/5

5

-T-DTH2
Doctoral Thesis 2/5

5

-T-DTH3
Doctoral Thesis 3/5

5

-T-DTH4
Doctoral Thesis 4/5

5

-T-DTH5
Doctoral Thesis 5/5

5

Total Credit Hours (US):

67
Elective Courses:
STANDARD DEGREE ROADMAP - ELECTIVES

Code

Course Name

-EC-300
Early Church Studies

2

-LIT-501
Orthodox Liturgics

3

-ORTH-702
Orthodox Soteriology

2

-ORTH-705
Orthodox Liturgy Theology

3

-PAT-601
Patristics I (Early Church Fathers)

3

-PAT-602
Patristics II (Latter Church Fathers)

3

-PAT-603A
Orthodox Ascetical Tradition

2

-PAT-603B
Orthodox Ascetical Tradition

1.5

-THE-405
Comparative and Critical Theology: Saints and Images

0.5

-THE-436
Comparative and Critical Theology: Sola Scriptura (1)

0.5

-THE-446
Soteriology: The 'Salvation by Faith alone' debate

0.5

-THE-447
Scripture - Canon: The controversy on the OT canon

0.5

-THE-448
Ecclesiology: The Debate on the Roman Papacy

0.5

-THE-483
Early Christian Doctrines

2

-THE-484
The Orthodox Church

3

-THE-485
The Church at 325 (Eusebius: Church History)

2

-TPH-4477
Introduction to Greek Philosophy

1

-TREL-4680
Philosophy of Religion

1

-TREL-4680
Philosophy of Religion

1

-TREL-6100
Great World Religions, 2nd Edition: All 5 Religions (Set)

3

-TREL-6172
Comparative Religion

3

-TREL-647
Early Christianity: The Experience of the Divine

1

-TREL-653
Old Testament Background / Overview

1

-TREL-656
New Testament

2

-TREL-657
Apostle Paul

1

-TREL-6577
From Jesus to Constantine: A History of Early Christianity

1

-TREL-897
American Religious History

2

-TTH-367
World of Byzantium

2

-DOC-700
Writing the Doctoral Dissertation: A Systematic Approach

0

-DOC-701
How to Complete and Survive a Doctoral Dissertation

0

-THIS-8380
History of Russia: From Peter the Great to Gorbachev

1.5

-TPHI-4453
Natural Law and Human Nature

1.5

For more information:
The V. Rev. Pr Laurent Cleenewerck, faculty coordinator
The Rev. Dr Lev Smith
The V. Rev. Pr Nektarios Trevino
Dr George Hage
Dr Andrew Zoran Vusijic
Dr Anke Wanger