EUROSTATE offers a primary external (distance or online) degree program called the EUROSTATE Master in European Administration and Diplomacy (MEAD).
This represents a comprehensive, outcome-based program at the end of which students can expect to master the following competencies:
Professional paper / report writing

Critical Reasoning / Argumentation

Essential IT skills: MS-Office, Networking, Database Concepts, Web Design

Project Management Certification

Theoretical and practical understanding of Global Economics

Proficiency in another EU official language in addition to English

Knowledge of:

EU Institutions including ECB
EU Country profiles
European Law
European Trade and Agriculture
Theory and practice of EU diplomacy
The EUROSTATE MEAD represents at least 55 ECTS (37 US credit hours) of academic coursework - actual equivalent study time is closer to 60 ECTS but program concentration makes the program more affordable.
This program is compliant with Bologna Process guidelines and comes with a full ECTS documentation / transcript + diploma supplement.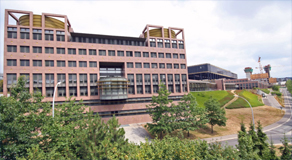 [Above: the seat of the European Court of Justice in Luxembourg)
This program prepares students (and working professionals, as well as officials) for EU leadership positions with:
EU Institutions

National Institutions

National and Regional Governments

International Organizations

Non-Governmental Organizations and Foundations

European-oriented corporations

PROGRAM COURSES OR "ROADMAP"
The module sequence is as follows:

English Writing Skills [EUR-LIT]
Critical Thinking / Argumentation [TPH-499]
Essential IT skills [EUR-IT]
Project Management [PM-200]
Economics and Global Economics [EUR-ECO]
Diplomacy - Theory and Practice [EUR-401]
European Diplomacy (History) [EUR-705]
European Country Profiles, including candidates
European Institutions [EUR-520]
European Law [EUR-510] + International Law [LAW-INT]

European Trade & Agriculture [EU-AGT]


Second Official EU language [EXTERNAL]


European Business, Economics, Finance with focus on Euro-Zone [EUR-620]


European Diplomacy and Foreign Relations [EUR-701]


Final Major Paper / Monograph [Faculty Directed]


Recommended: download the comprehensive MEAD program documentation with syllabi for all courses and ECTS documentation.

Recommended: download the basic MEAD program documentation without syllabi for all courses and ECTS documentation.

Recommended: Link to EUCLID/EUROState

Recommended: EUCLID Online Master in Diplomacy and International Affairs